Friday was Dojo Movie Night! We watched
The Good, the Bad, and the Ugly
. I understand the soundtrack to this movie was the basis for all music in Western movies from then on. It was also the basis for a Vandals song, "Urban Struggle."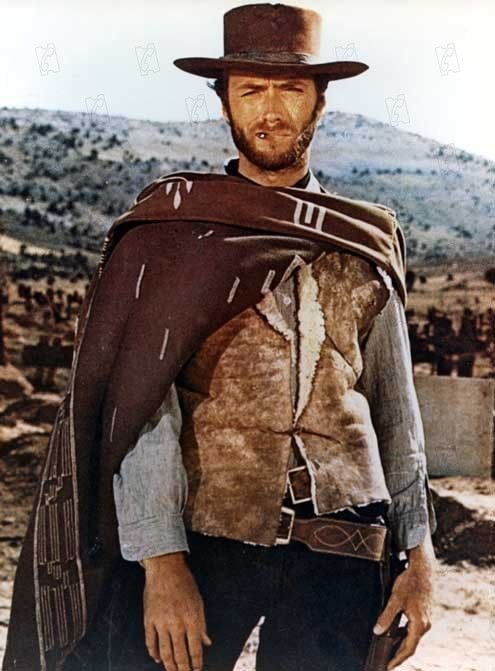 Young Clint Eastwood was a hottie. Too bad he only plays one character ever.
On Saturday, I slept until afternoon. Then we went to Trader Joe's.
Saturday night, we walked to
Cato's Ale House
in Piedmont, where I had the best tofu burger EVER! Usually, burgers marketed on menus as tofu burgers are nothing more than a Boca burger or Gardenburger or something. NOT THE SAME, people. This was actually a burger made of tofu, and it was SO GOOD. They didn't have any mustard (?), but I ate an enormous amount of salad beforehand and while there to make up for the damage something so delicious would cost me. They have a huge selection of draft beer, too. The only downside was the service: You basically have to jockey for the next open table and then go to the counter to order food and the bar to order drink. So there's no hosting or waiting service, but the food certainly makes up for it. One caveat: There is live music Sunday and Wednesday. I don't like to go to places having live music unless I am going specifically to hear said music. It just makes it too loud.
Today I made...
Cashew cheese and flax crackers:
I forgot to add the coconut oil, but what this cheese lacked in texture (it was only lacking some firmness), it totally made up for in cheeselike taste! Next time I might add a "rind" of herbs or spices or something. The recipe in
I Am Grateful
makes this a pepperjack cheese, but I didn't have any jalapenos and instead substituted a half-teaspoon of black pepper. Mmm. I am so happy. Nomnomnom.
Pizza:
Much more attractive the second time around. Thank you, Trader Joe's, for giving me easy access to whole-wheat pizza crust that I don't have to spend hours making! C and I both give this pie an A+. F's
stuff
was delicious for crust-dipping! It was so good, in fact, that I think I'm going to use it as salad dressing.
And this granola is a work in progress:
It looked simply gorgeous outside, so I walked down to Lake Merritt to read some of Blink and to spend some quality time with myself. But appearances can be deceiving as we all know, and it was windy like a hurricane out there. I should have known, judging by all the cirrus clouds in the sky. It was nice, though, on those rare moments when the wind was not blowing. I can't tell yet if I got any sun. Oh, to be tanned and golden instead of pasty and emo! Maybe the sun in Austin this weekend will do the trick.
Today, I talked to AW and my parents on the phone. I'm surprised nobody asked me about the recent
OPD tragedy
. Maybe they didn't see anything on it till later when they watched
60 Minutes
. I cannot wrap my brain around how human beings want to shoot, torture, rape, molest, and otherwise seriously injure each other. I can't judge and act like I know their motivations, though, because I don't and will never will. I guess that is partly why I am not in jail, hm?
I like posting in this blog more often than I used to. Not only do I gain clarification and perspective on my daily happenings by rereading past entries, but I also get advice from you people! So thanks for reading and for telling me what you think.